Club Captains Report
Jon Perkins
Captain
December 5th Team Stapleford
Winners – N Bennett/J.Bennett/B.Beckley/C.Beckley     91 points
December 16th Texas Scramble
Winners – B.Wild/B.Foster/L.Foster/G.Tomkinson        48 Points
December 26th Brandy Stakes
Winner      Robin George                                                     41 Points
New Competition between President/Past President/Captain and Vice-Captain Winners President and Past President
Sunday Morning Competitions coming up
January
23/01/2022 Greensomes
30/01/2022 3rd Round Wood Trophy
I hope you all had a good Christmas and Happy New Year and we all look forward to better times in 2022.
---
Men's Competition Secretary Report
On 16 January 2022 the men's competition account stands at £574.90 within these funds, £193 is held as takings for the first two rounds of the Wood Trophy to be disbursed when the results of round 3 are known.
All the cash previously held is in Jack's personal account with £193 from the Wood Trophy held in the competition account.
Moving to a cashless competition structure was rocky to say the least but Derek and I have worked really hard to set up the Club V1 system correctly so that the charging and booking works for the members. We are still learning but hope not to need to move back to cash as the overall consensus from the members is positive. The trial is still ongoing and we will deliver a report to the committee most likely at the next committee meeting.
There are two notable members that I am in contact with who are finding this transition a step to far. I am assisting them as far as I can and nobody has stopped playing on a Sunday morning as a result of this change to my knowledge.
Robin George is prepared to help me bring the cups back to the club from those who took them home, help me with the inventory and get them to the engravers. This is on hold until I find a moment to commence the work with Robin.
A list for interest for the Jack Hicks competition will go up in the Men's and Ladies' changing room if people wish to be considered for selection in 2022.  There will be a trial foursomes event on 27 February in conjunction with a foursomes competition for the other Sunday members.
---
Ladies Section
Christmas Competition
This competition commenced on 2 November and ran over 5 weeks.  Players' best 3 scores from games within that period were used to place the winners.  In first place was Pauline Giddens with a score of 109.  Second place went to Lorraine Featherstonhough with 107, and third was Louise tucker with 102.  The three of them are pictured right with their prizes.  The player with the best score over nine holes was Sally Lawson with a score of 54.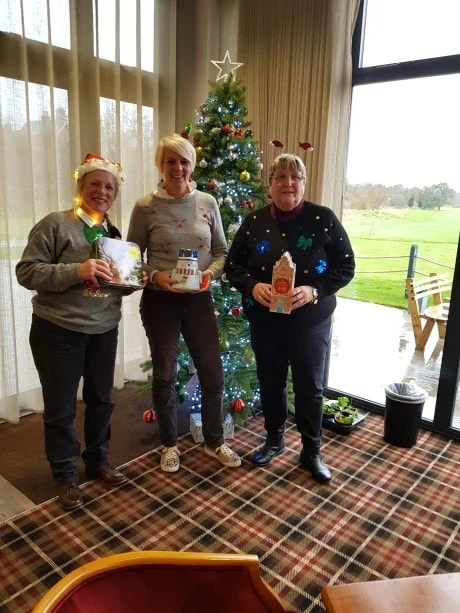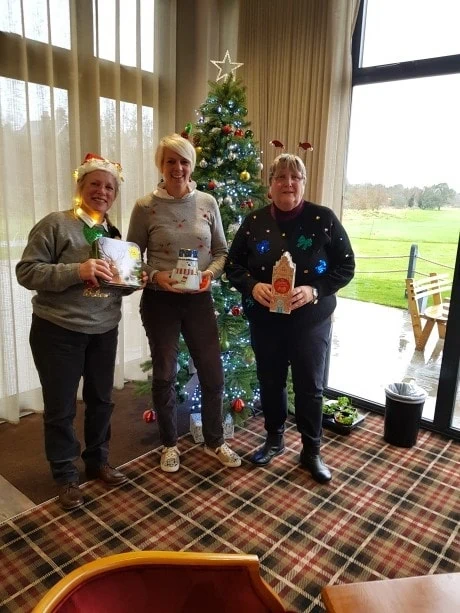 Pink Ball Competition
This competition was held on 7th December.  The winning team was Joan Sykes, Maureen Davison and Val Brown pictured left below.  Second place went to Sue Pout, Sally Lawson and Vilma Parrett pictured right below.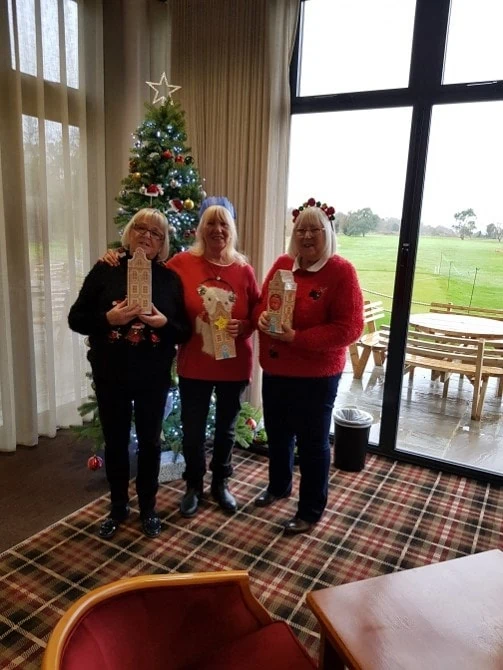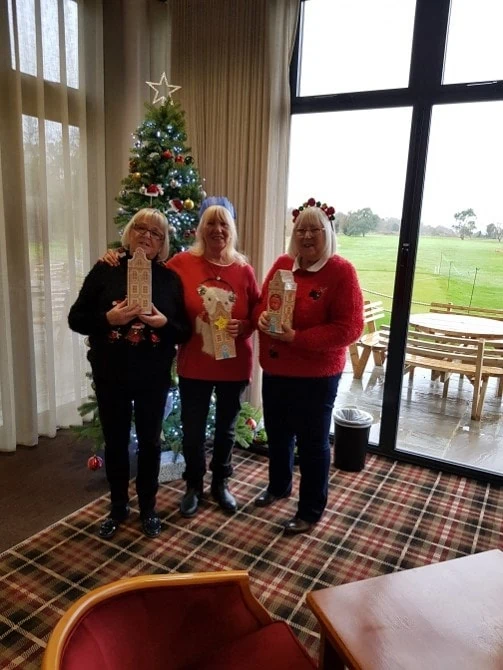 ---
Social Events Round Up
We start of the year on a sad note. We had to cancel the New Year's Eve party and the film night as a result of covid related lack of support. Now we have had to cancel Burn's Night which we hope is due to covid worries.
The social committee plans to go ahead with the below events BUT WE MUST STRESS:
THESE EVENTS CANNOT HAPPEN WITHOUT THE SUPPORT OF THE MEMBERS WHICH WILL PROVIDE VITAL INCOME FOR OUR GOLF CLUB.
Saturday 12 February – Valentine's Vinyl Night: Dig out your vinyl records (7 inch or albums) James Love, a member, will be running a vinyl night to go with dinner and dancing for valentine's night. Bring your own romantic vinyl songs that the DJ will play for you on request on the night. Don't worry if you don't have any, he has plenty! Watch out for the signup sheet.
Saturday 26 February – Club Band Night: The Club band will be playing. For only £5 entry fee you can come and listen to the band play from 7:30pm for an 8pm start. There will be food on offer if possible – watch the signup sheet.
Friday 11 March – Quiz Night: One of our members has kindly offered to run a quiz night which will be FREE OF CHARGE to enter. You will need to sign up to ensure we have space for your teams of up to 8 people. We will be holding a raffle on the night with any prize offerings gratefully received.
Saturday 2 April – 60s & 70s Themed Vinyl Night: We will have a DJ playing 60s and 70s themed music all night long! It will be a fancy-dress night with some a 60s/70s themed food menu available. Enjoy a fantastic night of singing, dancing, and laughter. Watch the board for a signup sheet.
Saturday 23 April – St George's Day: Pencil in the date as St George's Day falls on a Saturday in 2022 so we will be holding a golf event in the day followed by a special event in the evening.
Thank you
---
Old Salts Section
Captain Colin Whitaker and Vice John Allen 

December began with a Friendly Four Ball day , of those players that entered scores Martyn Dines had  36 points , John Stokes had 35 points and Graham Doghan had 34 points.
The Captain's Challenge was 2 and 1 win for Captain Colin Whitaker ace and Vice John Allen against Denis Smith and Graham Doghan,

Number two of best 3 from 4 Stableford competition was played on the 9th December, some excellent scores were returned resulting in a top Score of 42 points by  ,what's his name ??? oh yes ,Dave Rhodes playing off (25 h/c) in 2nd place was Paul Sampson with 40 points (28h/c) in 3rd place was Martyn Dines 39 points off (20h/c).
The Captain's Challenge was a halved match between Captain Colin Whitaker and Vice John Allen against the challengers Dave Rhodes partnered by a rare and welcome visitor to our shores Gary Hartley-Trigg.
A slightly disappointing number of players posted scores for the Christmas Cup 9 hole competition (27) but the Old Salts Christmas meal was better supported with 37 diners enjoying a well cooked meal and pleasurable banter. A welcome guest was President Derek Bates who kindly supplied the port and an enjoyable speech.
This was followed by the results and a humorous 'shaggy dog' golfing story from Captain Colin Whitaker, (don't give up the day job! ) the Captain also thanked all Old Salts for their generous contributions to the raffle which raised the excellent total of £220.00 for the Captain's Charity.

The result of the competition was close as usual, in 2nd place was Vice Captain John Allen with 20 points, in 3rd place on count back was Graham Doghan with 20 points but the winner was a player who lived up to his name of  'Pancho', Malcolm Cane with 21 points… Well done Malcolm! 

December 23rd was a Friendly Four Ball but due to uncertainty about Covid very few took part, there was a Captain's Challenge, Captain Colin Whitaker and Vice John Allen played against Mick Wyles and Brian Ridley and won by one hole.
The last outing of 2021 on 30th December was a Friendly Four Ball, the numbers of players was restricted as no buggies or electric trolleys were allowed due to very damp conditions.
There was a Captain's Challenge which saw the Captain Colin Whitaker and Vice John Allen continue their winning streak as they beat Challengers Paul Lithgow and Peter Smith by 4 and 3. 
The Captain and committee wish all Old Salts a Very Happy and Healthy New Year
---
Midweekers
Captain Terry Robinson
Not a great deal has happened since my last report, other than Christmas of course, oh! and the New Year and two competitions .
The first competition was the December draw in first place was Ian (left his keys in the locker) Moyes on 35 points second was Don Crawford on 34 points and third was Alan Fowler on 34 points. The second competition was the Tony Love Trophy, the winner being Dave Tassell on 42 points on countback from Louise Tucker also on 42 with Martin Silverton third on 41 points.
I would just reiterate that if any one who is a Midweeker has any news or preferably gossip! let me know and I will get it put in the Tidings, things like the loquacious Andy Short, yes I have used that term before, having achieved the milestone of having watched 91 football league teams play on their home grounds, the final one to complete the 92 is his trip to Liverpool to see them play Shrewsbury and yes we all know he needs to get a life, but it's whatever floats your boat, so well done Andy.
In conclusion I have heard a few remarks regarding the bar opening hours, that it should open at ten and close an hour earlier in the afternoon just a thought for the hierarchy.
Happy New Year everyone have a healthy and prosperous one.
Ian Horton.
---
Juniors Section
Captain
Report to follow
---
Around The Club
Old Clubhouse Site
The area to the right of the Clubhouse, which at the moment is unsightly and is to be landscaped and improved.
The scope of works is to level out the area, excavate for a pond and wetland feature to encourage wildlife to the right hand side in front of the trolley shed approximately 6m from the shed, re-level the pathway and concrete, make provision for an enclosed secure buggy storage area to the left of the trolley shed, repair and reinstate the broken area of car park by the clubhouse, provide a pathway to the course suitable for foot and buggy usage utilising the reclaimed paviours at the moment stored at the rear of the car park. The area will be planted with trees, generously donated by club members and sown with wildflowers. The boundary fence to the right-hand edge will be removed apart from a short section to protect the trolley shed door area and a hedge will be planted in its place.
The vast majority of the work will be carried out by volunteers and if you wish to help in any way please contact Bob Ireland by email at robert.ireland@gmail.com or by WhatsApp, phone or message 07802874914. I'm looking forward to hearing from you!
QI (Quite Interesting)
| | |
| --- | --- |
| Maniacs | |
| Chionomaniac | snow |
| Cynomaniac | dogs |
| Ailuromaniac | cats |
| Klazomaniac | shouting |
| Catapedamaniac | jumping from high places |
| Onychotillomaniac | picking nails |
| Phagomaniac | food |
November Quiz
What was the name of the only painting by Van Gogh, sold in his lifetime?
Ans.     The Red Vineyard
What was unusual about the marriage of the Roman Emperor Nero?
Ans.     He married his male slave Scotus
What is unusual about the month of February in 1865?
Ans.     It is the only month in recorded history not to have a full moon
What is unusual about Istanbul?
Ans.     It is the only city in the world to be in both Europe and Asia
Why do spiral staircases in castles run clockwise?
Ans. So that defending Knights coming down could use their right hands to wield their swords, whereas attacking Knights coming up couldn't (Left handed swordsmen were not allowed to be Knights)
December Quiz
Oscar Onlys
Who were the only:
2 Actors to get seven Acting nominations without winning a single Oscar?
3 Actors to win consecutive Oscars?
3 films to win Oscars for Best Picture, Best Director, Best Actor, Best Actress and Best Screenplay?
3 women to get nominated as Best Director?
2 Actors to get acting nominations 4 years running?
Answers next month. Quizzer of the month will be acknowledged in print!
100 Club – 2021/22 Update, Donations to W&SGC and News
I have finalised the 100 Club activities for the year ended 31 January 2022 as summarised below.
In August 2021 £853 was donated to W&SGC from your 2021/22 subscriptions. £540 was used to pay the balance of the Flagpole, costing £1257. The remaining £313 donated, plus the final £40 donated in January 2022, were used to buy the matting tiles costing £421 for the new practice nets, leaving £68 of the cost outstanding.
100 Club donations to W&SGC totalled £893 for 2021/22 and accumulated donations to 31 January 2022 are up to £12192. This year 42 lucky prize winners shared £900 prize money including Golf Week and Christmas £50 Bonus prizes. This is a great result and your support for the 100 Club is valued and appreciated.
I anticipated the 100 Club would finish at 31January 2022, so all the 100 Club income has been distributed in prizes and donations to W&SGC. The 100 Club bank account has a Nil balance. I have sent all the financial summaries to my usual contacts at the golf club to keep the club informed and for their records.
Louise Tucker recently told me a new Lady Member will take over the 100 Club. I have emailed details to help her to set up and I will pass all the 100 Club records etc. over to her when a convenient meeting is arranged, to enable her to carry on the 100 Club for 2022/23. I expect she will be contacting club members as soon as she is ready to proceed.
Please support the 100 Club when your subscriptions are requested. I am very pleased someone is taking over the 100 Club and hope it continues for the foreseeable future.
Best wishes,
Ryn Hudson.
100 Club
---
Flotsam and Jetsam
There are many items for sale all with club logos they are situated in a display cabinet alongside the bar and may be purchased over the bar.
They include:-
Balls, tees, markers, pitch repairers, shirts and pullovers and especially for you Fleeces with the club motif, sensibly priced at £25.00 Ideal for those who play in any of the teams or just as a fashion statement!
Items for sale this month (10% to club funds)
Nothing yet but feel free to contact me for inclusion next month