Whitstable and Seasalter Golf Club were able to hold their annual Finals Weekend, for the culmination of all the year's knock out finals, over a pleasant and warm September weekend.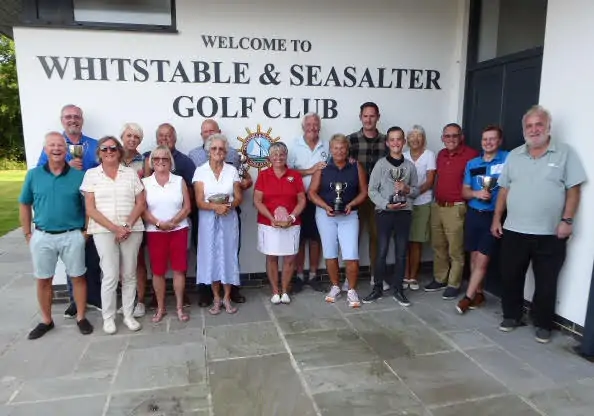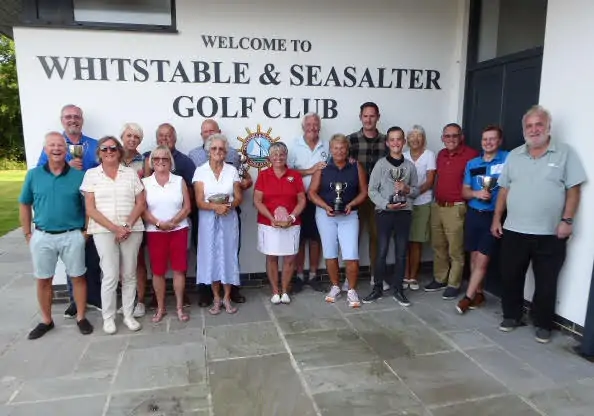 The main event in the men's section is the Captain's Prize which is played out over 36 holes and a very prestigious prize to win. It took 37 holes to separate the finalists, Ronnie Rumball emerging victorious-eventually-against last year's Captain Rob Davis.
The ladies equivalent is the Seasalter Cup and this was also a close-run affair. Current Lady Captain Fran Hollingsbee beat the previous winner of the Cup, Louise Tucker, on the 19th hole.
In the Veteran's Putter Brian Beckley was unbeatable, and an eagle on 7th helped him to a 5 and 4 win against Neil Bennett.
James Bennett cheered the Bennett family up with his win in the Seasalter Cup-holing a monster putt on the 18th green to narrowly defeat Graham Williams.
The Clarke Cup featured 2 father and son pairings. Winners also by 5 and 4 was the youthful Brinley Foster with father Lloyd, a 5 and 4 win against James and Neil Bennett.
The Jubilee Rosebowl (a ladies high/low handicap pair) was another close one which Louise Tucker and Sheila Wyles finally closed out on 17th green 2 and 1 winners, playing Sue Hope and Carol Doghan.
And Sheila did the double with husband Mick in the Klein Cup (for husband and wife pairings). Mick managed to hole his putt on 18th green after Ryn Hudson, playing with wife Jean, had holed his effort from off the green.
The last match of the day was the Stanley Cup (mixed pairings, not husband and wife) and Carol Doghan and John Wegner just edged out the established pairing of Maureen Davison and John Clarke in another close match that ended on 17th.
Well played all and thanks to all the organisers, referees and supporters.