Message from President Derek Bates
It seems unbelievable that I have almost completed my first year as your president and what a year it's been. From my viewpoint it's been fantastic to see the club getting back to normal following the pandemic restrictions, and it's great to see social events being included in the calendar again. I do hope all members will do their bit and support these events, particularly the forthcoming dinner dance on 16th October.
You will all be aware that the Club's AGM is to be held on 6th November, and as there are no covid restrictions in place the meeting will be held in the clubhouse as usual. There is no requirement for any current Directors to seek re-election, though we already know we will have several vacancies to fill, including the position of Club Secretary. Full details of the roles and responsibilities new Directors will be required to take on, will be circulated in due course.
Regardless of whether new Directors are appointed, the majority of current Directors believe continued reliance on volunteers for day to day management of club matters, is not sustainable in the longer term. Moving forward, we have to consider employing a "Club Manager" or "Office Manager" to provide consistent, professional management. The challenge of course is how such a position might be funded without a significant impact on membership fees. In this regard, additional income from; the bar, green-fees and club-house hire, are increasingly important, but we also need membership numbers to remain high.
Other matters to be discussed at the AGM will include rule changes, particularly the rules pertaining to terms and conditions of membership. Our current rules fail to clearly state member paying their membership fees by monthly standing order are in fact being provided with an option to pay their year's subscription by instalments. As a result, some members believe they are paying a monthly membership which they can opt out of at any time of the year, which is not the case.
Your views on all these matters is important and I do hope you will take the opportunity to attend the AGM next month.
Derek Bates.
---
News and items of interest
Train Match Westgate and Birchington GC Saturday 2nd October
The train match gets its name from 91 years ago when the golfing commuters from Whitstable and Seasalter, Herne Bay and St. Augustines challenged Westgate to a match. Since those days any club in this part of Kent on the mainline to London may send a team to play in the match.
The match is always started by meeting in the clubhouse, bacon rolls and coffee, with large measures of brandy for those who need the support.
Today's match was a draw 4-4 so Westgate retain the trophy for another year. This is a very good event with loads of history and should be encouraged for the future. It will be included in the Club Diary next year. Thanks to all who played this year.
Rob Mumby.
Message from the Communications Director
Dear All
After my stepping down from the Tidings Bob Ireland has asked to take over compiling an online version that will be published on the Club website. Please send any information you may want published to Bob and he will sort it for you. His email is robert.ireland@gmail.com
Many thanks
Andy Selwood
Hi everyone I'm pleased to resume my old role as editor of The Tidings and would appreciate your input, if you have anything to report, topical stories, jokes, items of interest please send them to me via email at the above address.
I would also like to produce The Tidings as a hard copy, if anyone has any suggestions as to how this could be financed please let me know.
Bob Ireland
Forthcoming events for your diary
Annual Dinner Dance. Date. Cost £45.00 per person
The first main event in our new clubhouse
Tables of twelve are available please see the notice board in the clubhouse for booking and menu. You are welcome to bring guests and make up your own table up to 12 persons.
---
Men's section
Captain Rob Mumby
Hi everyone, here is report of recent competitions and activities at the club
Canterbury Cup – Sunday 27th August
Round 1 1st David Tassell, 2nd Lloyd Foster, 3rd Mark Payne
Round 2 1st Mark Payne, 2nd John Stokes, 3rd Lloyd Foster
Combined scores,
1st Mark Payne 66 + 66 = 132
2nd Lloyd Foster 66 + 67 = 133
3rd David Tassell 66 + 69 = 135
Captains Charity Day
26 raffle prizes drawn from the tombola.
Texas Scramble team event. Mulligans and putts could be bought.
1st place went to Andy Sargeant and team
2nd Place went to Mick Found and team
3rd Place went to Tankerton hairdressers team Waterman and Webb
Winners of the Knockout competitions
Clarke Cup – Lloyd and Brinley Foster
Men's Seasalter Cup – Jimmy Bennett
Veterans Putter – Brian Beckley
Stanley Cup – John Wegner and Carol Doghan
Ladies Seasalter Cup – Fran Hollingsbee
Klein Cup – Brian and Sheila Wyles
Jubilee Rose Bowl – Louise Tucker Sheila Wyles
Captains Prize – Ronnie Rumball – runner up Robert Davis – This match went to the 37th Hole
Ladies section
Captain Fran Hollingsworth
Report to follow
Old Salts section
Captain Peter Smith
The Malcolm Cane Trophy, played on the 2nd September provided a number of surprise results.The Winner with a net 60 was Brian Pratt ( gross 91) in 2nd place was Ian Wingrove with net 61 ( gross 98) in 3rd place was Brian Daw ( gross 88) net 65. Only five players were par or better.
The Captain's Challenge saw a rare defeat for Captain Peter Smith and Vice Colin Whitaker as they lost by 2 holes to challengers Malcolm Cane and John Stokes.
Old Salts entertained Faversham Golf Club on Monday the 6th,after a tough match ,the visitors managed to retain the Bill Dance Plate , winning 4 and 3. With competitions coming on a weekly basis the Colin Holton Autumn Shield was played on the 11th of September .
The best score was returned by David Morgan with 42 points,in 2nd place was John Stokes with 40 points and 3rd was Patrick Mooney with 39 points.
The Captain Peter Smith and Vice Colin Whitaker had a close match against Paul Lithgow and John Allen eventually winning by two holes. During golf maintenance week two away matches were played, the first on Monday 13th against Boughton which resulted in a 5 ½ to ½ loss, this was followed on Wednesday 15th by an away match at Sheerness Golf Club which was unfortunately a 4 ½ to ½ loss , The captain wishes to thank all those players that participated.
Number 5 of Pete's Best 3 from 5 Medal was played on 23rd September , In 1st place was Trevor Coombes with a net 63 ( gross 88), 2nd was Nicholas Schoon with net 64 ( gross 87) and 3rd was Robbie Fudge net 67 ( gross 82). The Captain's Challenge finished a halved match between Captain Peter Smith and Vice Colin Whitaker and challengers Colin Holton and John Wegner.
The winner of the Past Captain's trophy was Ian Wingrove with 38 points, runner up was the 'ever popular' Malcolm Cane with 34 points. The final competition of September was the Dave Rigden Trophy , played on the 30th , in 3rd place was David Morgan with 36 points, in 2nd place was 'Mr Consistent' Trevor Coombes with 37 points but the winner was Andy Taylor with 38 points.
The Captain Peter Smith and Vice Colin Whitaker came unstuck in the Captain's Challenge losing by 2 and 1 to challengers Mick Wyles and Martyn Dines.
Brian Ridley
Competitions Secretary Jack Dale
Please be aware that any 7-day member is welcome to join us on a Sunday morning competition. It's always great to have a full field and to welcome new faces. You need an official handicap for the competitions so do speak with me if you need a hand to achieve that.
In October we are moving to a new method of working our competition prizes on a Sunday morning. Members will continue to pay their £3 entry fee (£2 for the competition and £1 for the 2s club) after their round of golf is complete. Results will be announced the following Sunday with prize vouchers passed out to the winners.
It is each winners' responsibility to give their voucher in to Chris behind the bar to receive the credit on your bar card.
From the start of 2022 the plan is for each Sunday morning golfer to have a 'competition account' on their bar card. It means that you will no longer have to remember £3 cash but will simply top up your competition account just as you top up your bar card. Your competition entry money will be taken automatically from your account if you're on the Sunday start sheet.
Moving to a cashless system is going to be strange for us all but please speak to me if you have any concerns or queries. We will do our best to keep you all updated with proceedings and in good time of when the system will go live.
Competition slots continue to be posted for access on HowDidIDo at 18:00 the Sunday before the competition date so please do contribute by filling slots up for you and your friends. A full field makes a good morning's golf!
Below are the Sunday morning section golfing dates up to the end of 2022:
| | | |
| --- | --- | --- |
| DATE: | COMPETITION: | FORMAT: |
| 10 October | President Prize | Greensomes 27 holes |
| 17 October | Medal Winners Cup/Stableford | Strokeplay |
| 24 October | Joint Pairs | Stableford |
| 31 October | Turkey Trot Round 1 | Stableford |
| 7 November | Captain's Swindle/ Lord Mayors Charity Golf pm | Stableford |
| 14 November | Turkey trot rd 2 /Captains Drive in pm | Stableford |
| 21 November | Captain's swindle | Stableford |
| 28 November | Turkey Trot round 3 | Stableford |
| 5 December | Team Stableford | Stableford |
| 12 December | Captain's Swindle | Stableford |
| 19 December | Captain's Swindle Adults Christmas Party and Xmas draw pm | Stableford |
| 26 December | Captain's Brandy Stakes | Stableford |
Kent Vets
Captain Derek Bates
Once again Whitstable proved to be the strongest in the league (holding all the others up) finishing 6th out of 6.
We played the Jamboree at Etchinghill on Tuesday 28th September, the course was in fine condition, the rain kept off but the greens proved too testing for us and we weren't in the frame at the end. Unsurprisingly Etchinghill won with 197 points, Tudor Park were second and Broome Park third.
Next year the Jamboree will be hosted by Whitstable so hopefully we'll do better then.
---
Quiz
Fathers
Why was Laura Dern (Bruce Derns daughter) bullied at school?
Apart from the obvious connection what have Vic Reeves, his father and grandfather got in common?
What connects Sir Roger Moore, Selina Scott, Julian Clary, Burt Reynolds, Terry Waite, Queen Latifa, Ross Kemp, Arnold Schwarzenegger and Eddie Murphy?
Mothers
What is odd about Ryan Giggs, Shirley MacLaine, Marylin Monroe, Sally Jessy Raphael, Jean Harlow, Lauren Bacall, Pablo Picasso, Shelley Winters and Catherine Deneuve and connects them all?
Priscilla Presley and Claudia Cardinale have a very unusual connection what is it?
What connects Telly Savalas and Tommy Lee's mothers?
Answers next month Quizzer of the month will be acknowledged in print!
100 CLUB September prize winners
1st £30 Martyn Dines 2nd £20 Paul Sampson, 3rd £10 Tony Henley
Congratulations to this month's Prize Winners. Please contact me with one of these options:
If you wish your prize to be credited to your W&SGC card to spend at the club, please advise me your bar card number. I will credit your card when I am next at the club, usually within a few days.
Alternatively email your bank account name, number and sort code. I can pay your prize in to your account.
Some recent winners have donated their prize money to the 100 Club as part of the 100 Club's donation to W&SGC. Let me know if you choose this option.
If you prefer a cheque please let me know. I can leave a cheque for you to collect from the club, usually within a few days.
As online transactions are more efficient and safer, I am keeping the 100 Club cashless, wherever possible.
100 Club's donations to the golf club are used towards projects for the benefit of all members of the W&SGC.
100 Club 2021/22 donation
I have transferred the 2021/22 100 Club donation of £853 to the W&SGC. I think this is a great result and thank all 100 Club members for your contributions and continued support. This donation completes the payment for the cost and installation of our new flagpole leaving about £300 available for the next project, to be decided. My thanks to John Clarke who led the flagpole project, discussing and informing me of its progress from start to finish, as he also did with the clocks and the new clubhouse lettering and logo, in the previous year.
Volunteer to take over the 100 Club for 2022/23
I am relinquishing organising the 100 Club for next year onwards and would like to hand over as soon as possible so that next year's subscriptions are collected during December 2021 to February 2022 as usual by my replacement. Everything is arranged for the remainder of this year; all that is required is to perform the draws for each month from now until 31 January 2022, distribute the prizes and tidy up the 100 Club account at 31 January 2022 for the start of next year. The sooner I can hand over the more I can help for a smooth transition. Jean and I are hoping to get to Australia to visit our family as soon as we can, maybe in December. I shall not start collecting subscriptions for next year so we will be free to go, when the Covid restrictions for entering Australia are lifted.
If you are willing to be our new 100 Club manager please contact me as soon as you can. I would not like the 100 Club to fold. It is worthwhile and rewarding and I regret having to 'retire' from organising the 100 Club for future years. I shall miss this extra contact with the club and 100 Club members. If you need more information or just want to talk about the possibility, my contact details are:
Landline 01227 364195
Email sgc_100_club@icloud.com
Mobile/text 07713160207
Regards,
Ryn Hudson
100 Club
Flotsam and Jetsam
Items for sale this month (10% to club funds)
Nothing yet but feel free to contact me for inclusion next month
---
Stories from the clubhouse and course.
Golf Finals Weekend
Whitstable and Seasalter Golf Club were able to hold their annual Finals Weekend, for the culmination of all the year's knock out finals, over a pleasant and warm September weekend.
The main event in the men's section is the Captain's Prize which is played out over 36 holes and a very prestigious prize to win. It took 37 holes to separate the finalists, Ronnie Rumball emerging victorious-eventually-against last year's Captain Rob Davis.
The ladies equivalent is the Seasalter Cup and this was also a close-run affair. Current Lady Captain Fran Hollingsbee beat the previous winner of the Cup, Louise Tucker, on the 19th hole.
In the Veteran's Putter Brian Beckley was unbeatable, and an eagle on 7th helped him to a 5 and 4 win against Neil Bennett.
James Bennett cheered the Bennett family up with his win in the Seasalter Cup-holing a monster putt on the 18th green to narrowly defeat Graham Williams.
The Clarke Cup featured 2 father and son pairings. Winners also by 5 and 4 was the youthful Brinley Foster with father Lloyd, a 5 and 4 win against James and Neil Bennett.
The Jubilee Rosebowl (a ladies high/low handicap pair) was another close one which Louise Tucker and Sheila Wyles finally closed out on 17th green 2 and 1 winners, playing Sue Hope and Carol Doghan.
And Sheila did the double with husband Mick in the Klein Cup (for husband and wife pairings). Mick managed to hole his putt on 18th green after Ryn Hudson, playing with wife Jean, had holed his effort from off the green.
The last match of the day was the Stanley Cup (mixed pairings, not husband and wife) and Carol Doghan and John Wegner just edged out the established pairing of Maureen Davison and John Clarke in another close match that ended on 17th.
Well played all and thanks to all the organisers, referees and supporters.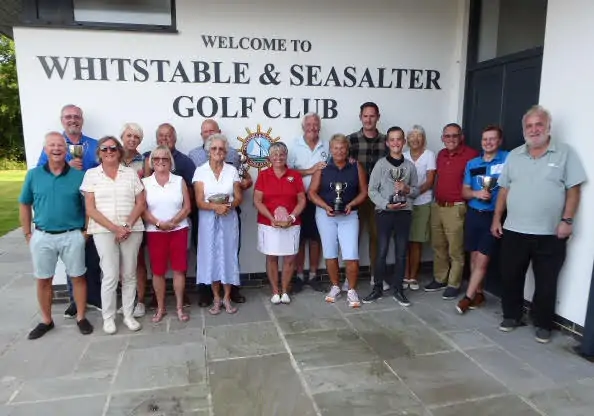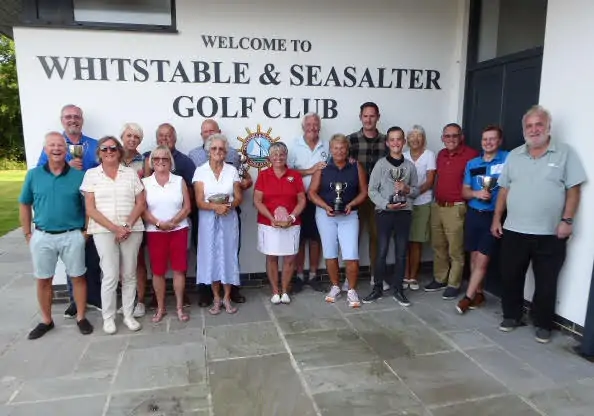 Improvements to the club are shown below, all work has been done by volunteers to an extremely high standard, our thanks go out to them.